Bus, subway, train, bus, subway… and we're in the center of Shanghai! During the long train ride, we came up with the Travelling Through China Drinking Game, which has yet to be tested in the field:
Chinese person bumping into you
→ Have a small sip.
(Double if it's a kid bumping into your backpack with their face first.)
Being asked for a selfie
→ Get out your flask, drink with them.
(Double if they ask you to pose in a certain way.)
Seeing a Chinese man with his belly out
→ Push him over, do a belly shot.
I wouldn't call Shanghai a Western city, but it still reminds me of Hong Kong. More people speak English here and not every brand store is fake. The subway stations in Shanghai are enormous. So much that Apple Maps actually includes maps of the stations themselves now. The station closest to our hotel has 20 individual exits: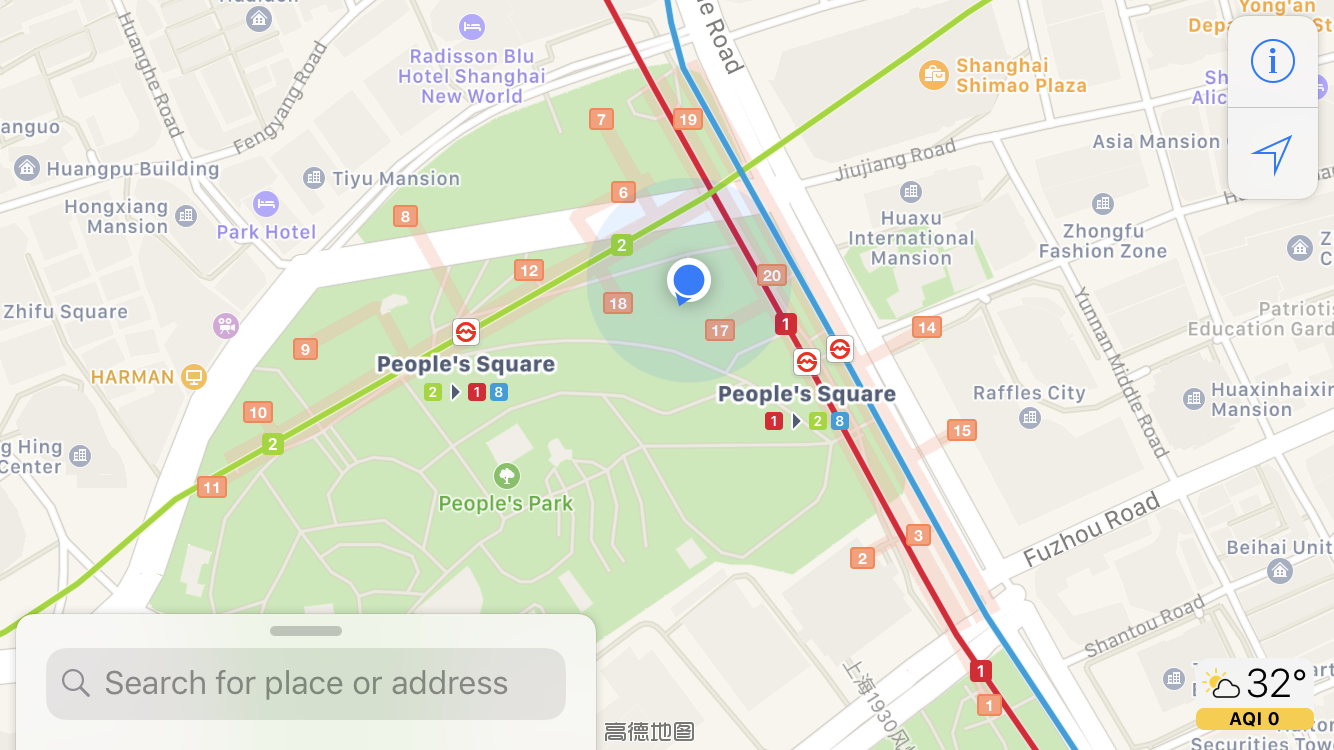 While walking through the streets, you constantly get the feeling it's about to rain because you feel water dripping down your neck. A quick look up at the blue sky reveals: No, just water dripping down from an air-conditioner high above you.
The Yu Garden which was just five minutes from our hotel is another beautiful public park. It's dense layout makes it feel vast, even though it's only about two hectares. It also contains a tiny amusement park with an even tinier rollercoaster.
My feelings about China
China is a country where living is relatively easy today. Our tour guide was dead serious about making sure we let go of every prejudice we had about China and just experience the country ourselves. And so far, I have to say, the past weeks have already changed my perception of China a lot – and definitely for the better.
One of the things I can't get my head around as a Westerner/European/German (and that I'm experiencing first hand!) is the Internet censorship. It's 100% possible to circumvent it, and everyone knows that. But then again, it's inconvenient and fiddly enough to redirect the people of China to use Baidu, WeChat and RenRen instead of Google, WhatsApp and Facebook. All of these aren't clones of their Western counterparts, but they're very different and sometimes offer a lot more. WeChat has a very prominent role in the daily life in China. Every merchant, no matter how small, accepts the smartphone-based WeChat Pay. At McDonald's, you can pay using either WeChat or a facial recognition based method. Using your credit card? Nope, not an option here. To make it a bit harder for us, you need a Chinese bank account to activate WeChat Pay. (But what were we doing at McDonald's anyway?)
Two lukewarm beers, please!
When you order a beer at a restaurant, expect to get a lukewarm one. It's not the broken fridge or them just not giving a fuck though. It's on purpose. Drinking hot or warm beverages with hot meals as seen as more healthy and they feel very strongly about that. So ordering a "beer" or a "cold beer" are two different things.
From a circus show we went to see